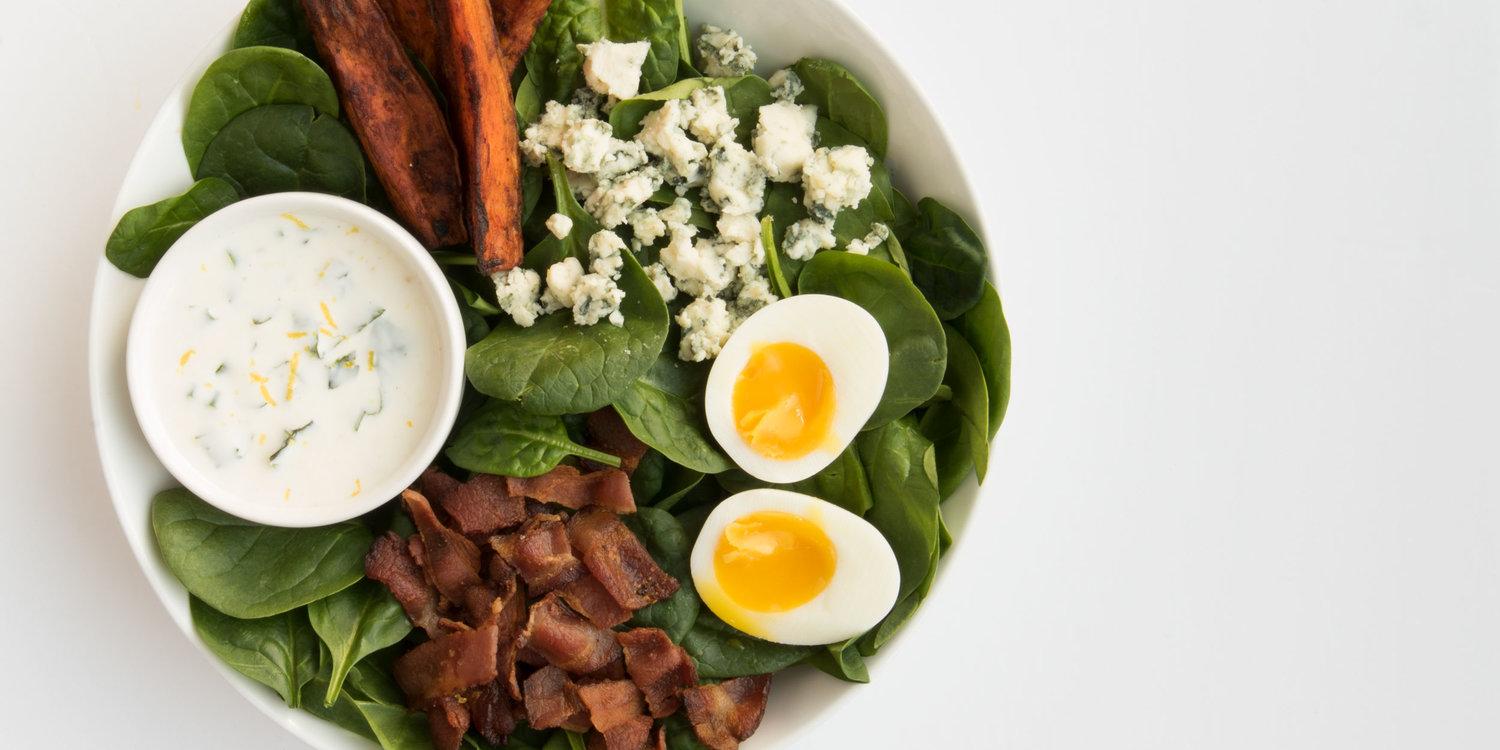 Ingredients
1 medium sweet potato, ends cut off, cut into 12 wedges
2 tablespoons olive oil
Salt and pepper to taste
Dressing
¼ cup chopped fresh chives
¼ cup chopped fresh dill
1 cup mayonnaise
1 cup Meadow Gold buttermilk
1 garlic clove, peeled, finely chopped
1 ½ teaspoons grated lemon peel
2 tablespoons lemon juice
Salt and pepper to taste
Salad
1 (5 to 6-ounce) bag fresh baby spinach leaves
4 ounces (1 cup) crumbled blue cheese
4 slices bacon, cooked, crumbled
How to
Heat oven to 400°F. Line 15×10-inch baking pan with parchment paper; place sweet potato wedges on baking pan. Drizzle potatoes with olive oil; sprinkle with salt and pepper. Toss to coat potatoes. Bake for 15 minutes, turn potato wedges. Continue baking for 10 to 15 minutes or until fork tender. Set aside to cool.
Meanwhile, in 2-quart saucepan bring 4 cups water to a boil. Reduce heat to medium-low; carefully place eggs in water one at a time. Simmer 6 minutes. Immediately transfer eggs to ice water; let sit 1 minute. Remove from water; carefully peel eggs. Cut eggs in half.
While eggs are cooking, in medium bowl whisk together all dressing ingredients.
To serve, divide spinach among 4 dinner plates or bowls; top with blue cheese, bacon, sweet potato wedges and egg halves. Serve with dressing.
Recipe and image provided by Half & Half magazine.

Other Recipes You Might Like