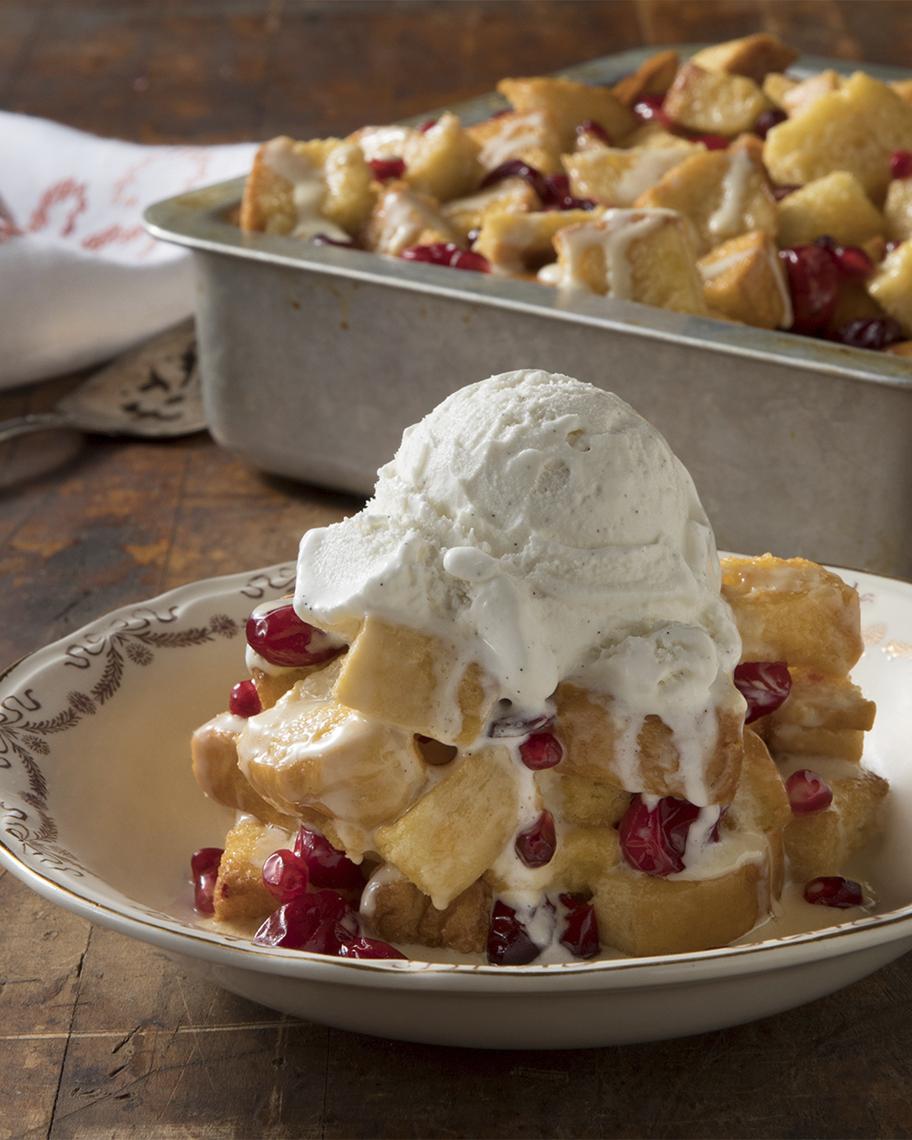 Caramel Apple Bread Pudding with Homestyle Buttermilk Syrup
Ingredients
Bread Pudding
5 to 6 slices stale bread, cut into 1-inch cubes (about 3 cups)
4 cups (about 5 medium) peeled, chopped apple
¾ cup firmly packed brown sugar
¼ cup sugar
1 ½ cups Meadow Gold heavy whipping cream
1 ½ cups Meadow Gold milk
4 eggs
3 egg yolks
½ teaspoon ground cinnamon
¼ teaspoon salt
1 teaspoon almond extract
1 teaspoon vanilla extract
1 tablespoon butter, chopped into small pieces
Buttermilk Syrup
1 ½ cup sugar
½ cup butter
¾ cup Meadow Gold buttermilk
1 teaspoon baking soda
2 tablespoons light corn syrup
1 teaspoon vanilla extract
Vanilla ice cream, if desired
How to
Heat oven to 350°F.
Place bread cubes on baking sheet. Bake for 10 to 15 minutes or until bread cubes are dried out, but not toasted.
Spray 9-inch square baking dish with no-stick cooking spray; set aside.
In large bowl toss together bread cubes and chopped apple. Place in prepared baking dish.
In same large bowl whisk together all remaining bread pudding ingredients except butter pieces. When combined, continue whisking while pouring mixture over bread and apple mixture. Gently combine with bread cubes making sure each piece of bread is soaking in part of the milk and egg mixture. Let stand 15 minutes.
Evenly distribute the chopped butter over the bread mixture.
Bake for 40 to 50 minutes or until set in center and top is lightly browned. Remove from oven and let stand 5 minutes.
Meanwhile, 8-quart stock pot (mixture will boil and fill pot) combine all buttermilk syrup ingredients except vanilla. Cook over medium high heat, stirring often, until mixture comes to a boil. Reduce heat to low. Continue cooking at a boil, stirring often, until syrup is golden brown (8 to 9 minutes). Remove from heat; stir in vanilla.
Cut bread pudding into pieces; serve drizzled with buttermilk syrup. Top with scoop of vanilla ice cream, if desired.

Other Recipes You Might Like