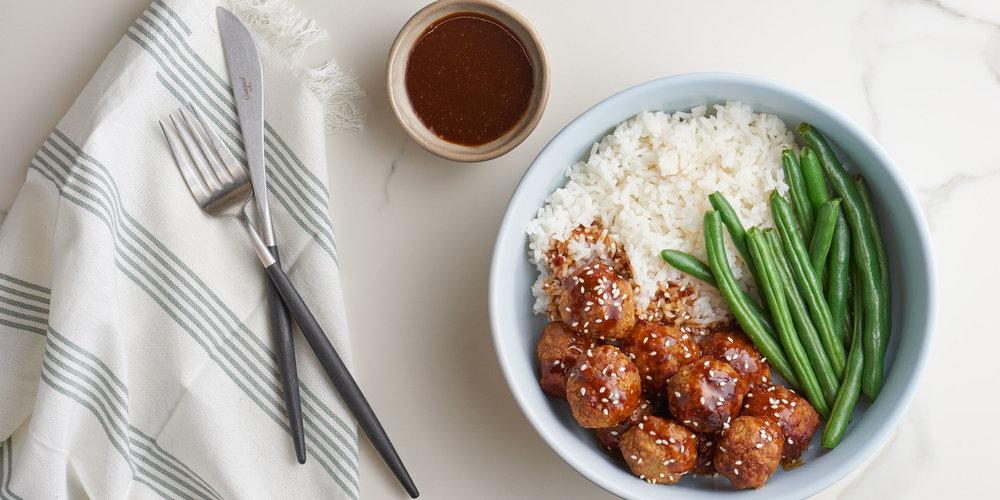 Five Spice Turkey Meatballs
Ingredients
For the meatballs:
1 pound ground turkey
1 egg, lightly beaten
½ cup 4% milk fat Meadow Gold cottage cheese
½ cup plain, whole wheat bread crumbs
½ teaspoon salt
½ teaspoon garlic powder
½ teaspoon onion powder
¼ teaspoon ground turmeric
¼ teaspoon Chinese five spice
For the sauce:
¼ cup hoisin sauce
2 tablespoons reduced-sodium soy sauce
2 tablespoons sesame oil
2 tablespoons rice wine vinegar
1 teaspoon fresh ginger
1 teaspoon chili paste
For serving, optional:
Sesame seeds
Cooked white rice
Steamed green beans
How to
For the meatballs:
Heat oven to 450 F and line a baking pan with parchment paper. Set aside.
Mix all ingredients together in a large bowl until fully combined.
Using a cookie scoop or 1 tablespoon measuring spoon, make meatballs the size of a golf ball. Place onto prepared pan and bake 15 minutes.
Remove from oven and place immediately into a large bowl with 1/2 cup sauce (recipe below). Toss to combine and place back onto the pan and bake 3 more minutes to slightly caramelize.
Remove from oven and serve immediately.
For the sauce: 
Whisk all ingredients together in a small bowl to combine.
Place 1/2 cup into a large bowl for meatballs (instructions above) and save the remaining for serving.
For serving:
Drizzle with additional sauce and sprinkle with sesame seeds, if using. Serve as an appetizer or with rice and green beans for a complete meal.
Recipe and image provided by Half & Half magazine.

Other Recipes You Might Like