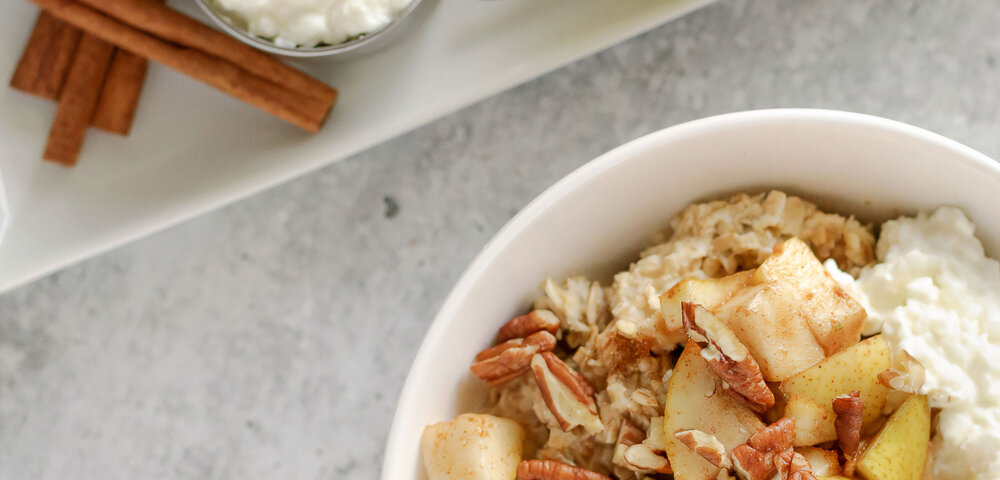 Instant Oats with Cinnamon, Pears and Pecans
Ingredients
1 packet instant or quick-cooking oats
Meadow Gold whole milk (measured per packet directions)
⅓ cup Meadow Gold cottage cheese
½ fresh pear, diced
1 teaspoon brown sugar
½ + ¼ teaspoon cinnamon
¼ cup chopped pecans
How to
Prepare the instant oatmeal according to package directions. Once oats are cooked, remove and allow to cool slightly. Add the brown sugar and ½ teaspoon of cinnamon, and stir to combine. Place the diced pears in a small bowl and sprinkle with the remaining cinnamon. Stir to combine, then add to the cooked oats along with the cottage cheese and chopped pecans. Sprinkle with additional cinnamon if desired and serve immediately.
Notes: If your pears are slightly underripe, place them in a brown paper bag and store on your countertop for 1-3 days until they soften. Use the remaining pears for salads, fancied-up grilled cheese sandwiches or simply enjoy fresh slices.
Recipe and image provided by Half & Half magazine.

Other Recipes You Might Like