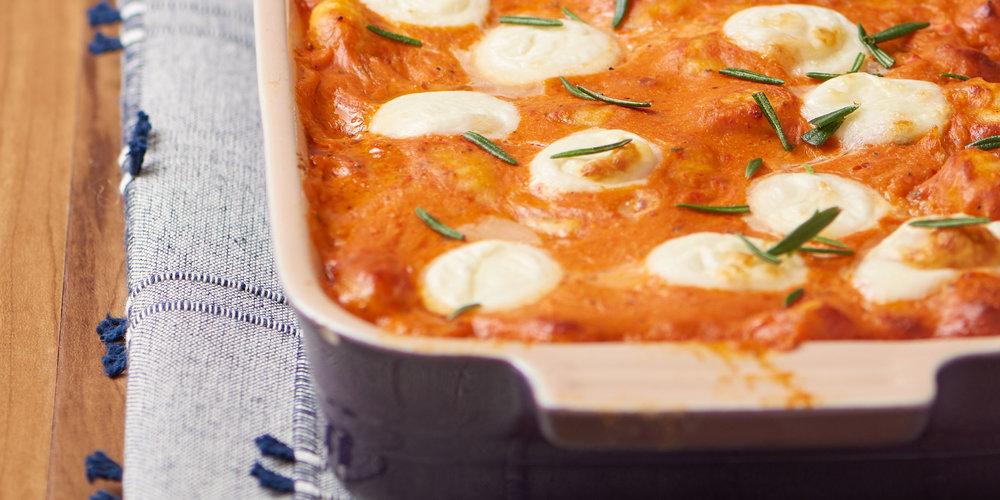 Roasted Red Pepper Gnocchi
Ingredients
8-ounce package gnocchi pasta
2 cups 4% milk fat Meadow Gold cottage cheese
½ cup grated Parmesan cheese
1 cup roasted red peppers
1 tablespoon minced garlic
1 teaspoon crushed red pepper
1 teaspoon salt
1 sprig rosemary, leaves removed from stem
¼ cup dry red wine
½ cup fresh mozzarella pearls, halved
How to
Bring a large stockpot of water to a boil and cook gnocchi for 1 minute. Drain and set aside.
Heat oven to 400 F and spritz a baking dish with cooking spray. Set aside.
Add cottage cheese, Parmesan, roasted red peppers, garlic, crushed red pepper, salt, rosemary and red wine to a blender. Pulse to combine before blending on high for 2 minutes, or until smooth.
Toss cooked gnocchi with 2 cups sauce and pour into prepared baking dish. Pour remaining sauce on top and dot with mozzarella pearls.
Bake 15 minutes or until bubbly and cheese has melted. Let set 5 minutes before serving.
Recipe and image provided by Half & Half magazine.

Other Recipes You Might Like