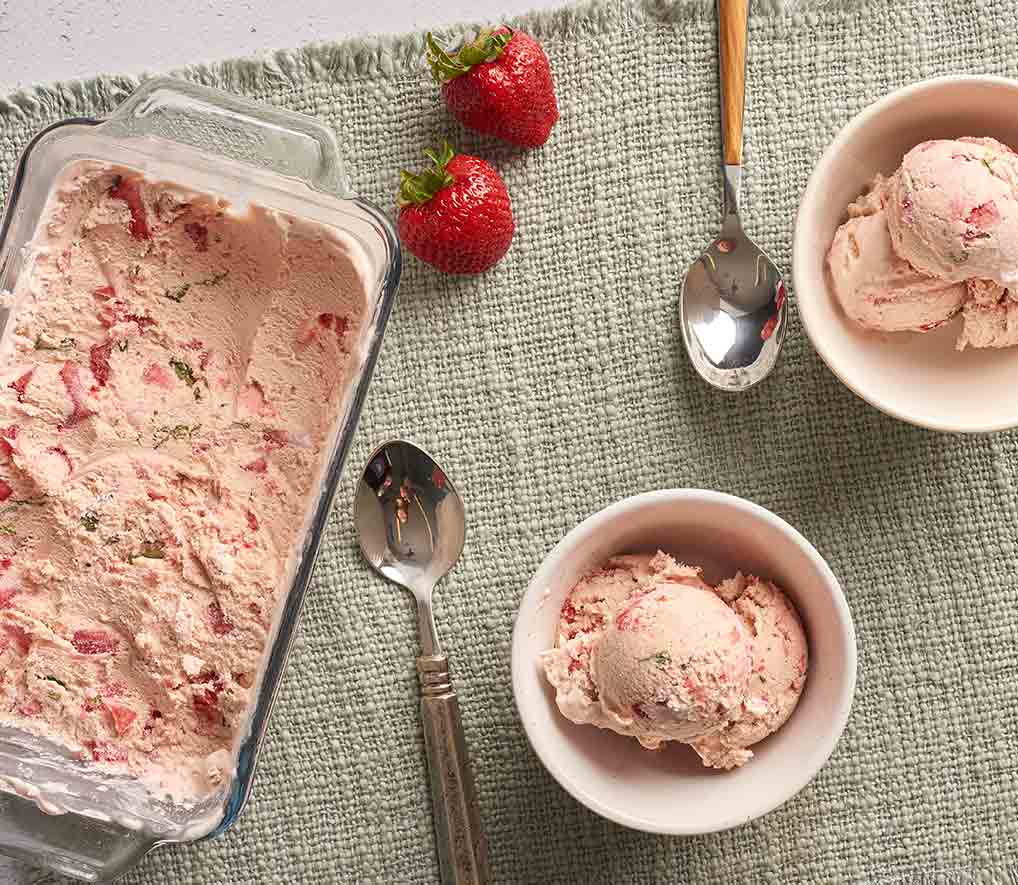 Strawberry & Basil Ice Cream
Ingredients
1 ½ cups freeze-dried strawberries
¾ cup sugar
6 egg yolks
1 teaspoon kosher salt
2 cups Meadow Gold heavy whipping cream
1 cup Meadow Gold milk
¼ cup fresh basil leaves
¼ cup fresh basil leaves, thinly sliced
How to
Follow ice cream maker directions to prepare to freeze ice cream.
Place 1 cup freeze-dried strawberries in food processor or blender. Process until forms very fine particles or dust.
In 2-quart saucepan whisk together strawberry dust, sugar, egg yolks and salt. Cook over medium heat, stirring occasionally, until sugar is dissolved.
Whisk in cream and milk until combined. Stir in ¼ cup basil leaves. Continue cooking, stir occasionally, until mixture just comes to a boil. Reduce heat to low and simmer 5 minutes.
Remove from heat; cool at room temperature 1 hour.
Strain mixture through a metal sieve into a large bowl. Cover with plastic food wrap; refrigerate at least 4 hours or overnight.
Freeze mixture in ice cream maker according to manufacturer's directions.
Once frozen, crush remaining ½ cup freeze-dried strawberries. Stir crushed strawberries and ¼ cup thinly sliced basil leaves into ice cream.
Transfer to freezer-safe dish; cover. Freeze 4 hours before serving.
(Makes 2 quarts)
Recipe and image provided by Half & Half magazine.

Other Recipes You Might Like