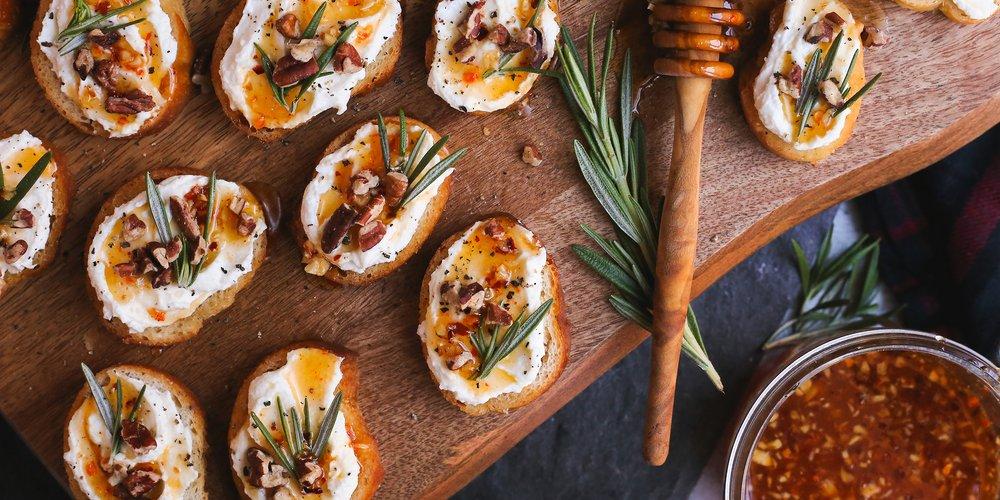 Whipped Feta Crostini with Hot Honey
Ingredients
For the hot honey:
½ cup honey
½ tablespoon apple cider vinegar
½ tablespoon hot sauce (Sriracha sauce or similar)
1½ teaspoons garlic, minced
½ teaspoon red pepper flakes
For the whipped feta crostini:
1 4-ounce container feta cheese crumbles
¼ cup cream cheese
¼ cup Meadow Gold cottage cheese 
To assemble:
24 toasted baguette slices, bagel chips or crackers
½ cup pecans, chopped
3-4 sprigs fresh rosemary, torn
How to
For the hot honey:
Combine all ingredients in a small saucepan. Heat over low heat until just simmering. Remove from heat and allow to cool.
For the whipped feta crostini:
While the hot honey is cooling, prepare the whipped feta by combining feta cheese crumbles, cream cheese and cottage cheese in the bowl of a food processor.
Pulse to combine, and then blend until smooth and creamy, pausing to scrape the sides, if needed. Transfer to a small bowl.
To assemble:
Spoon whipped feta onto each baguette slice. Arrange in a single layer on a serving platter.
Sprinkle with chopped pecans and fresh rosemary.
Drizzle your whipped feta crostini with hot honey and serve.
Time-saving tip:  Prepare whipped feta and hot honey the day prior to your gathering.  Store hot honey in a sealed container, at room temperature, and store whipped feta in the refrigerator.
Recipe and image provided by Half & Half magazine.

Other Recipes You Might Like