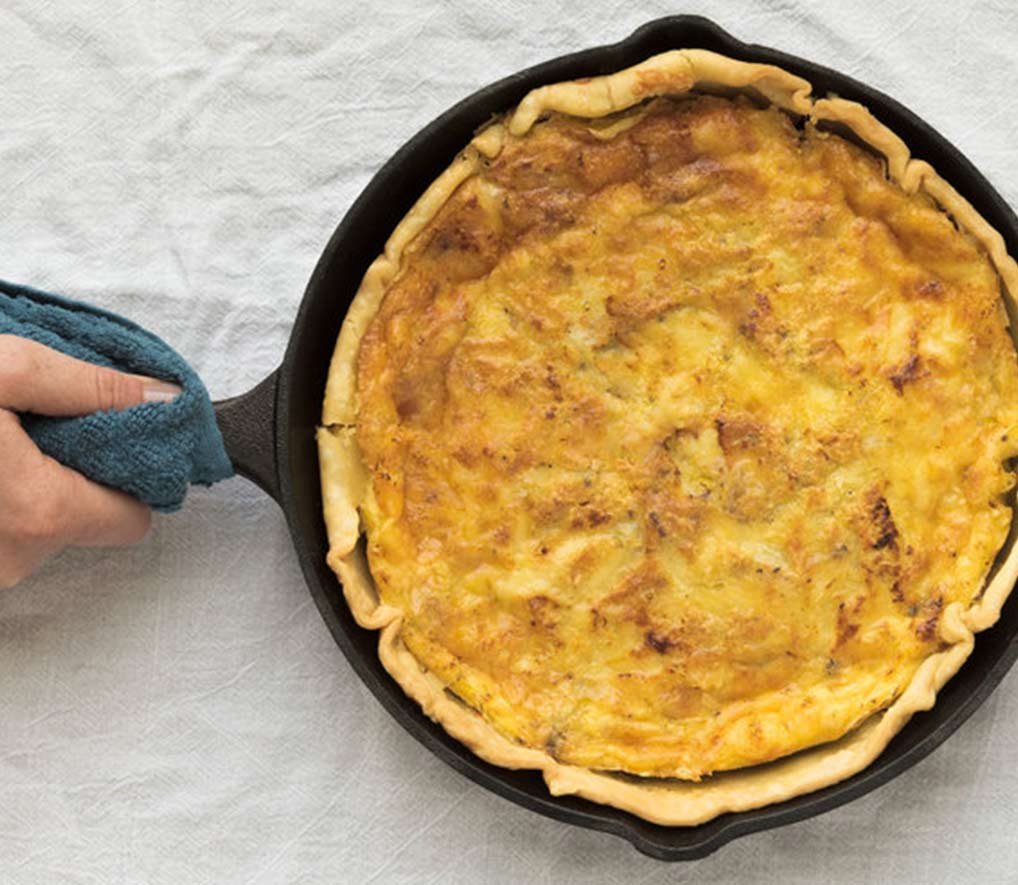 Bacon, Leek & Gruyère Quiche
Ingredients
1 (14.1 ounce) box (2 crusts) refrigerated pie crusts
2 (12-ounce) packages applewood smoked bacon, cut into ½-inch pieces
2 leeks, dark green leaf portion removed, white portion cut in half lengthwise, thinly sliced
1 cup Meadow Gold half & half
18 eggs
Salt and pepper to taste
8 ounces (2 cups) Gruyère cheese, shredded
How to
Heat oven to 400°F. Butter two 10-inch cast iron skillets. Unroll pie crusts; gently press one pie crust on bottom and up sides one skillet. Repeat with remaining pie crust and skillet. Prick bottom and sides of crusts with fork; set aside.
In large skillet cook bacon over medium high heat until brown and crispy (6 to 8 minutes). Place bacon on paper-towel lined plate; set aside.
Drain off and discard all but about 2 tablespoons bacon drippings. Add sliced leeks to skillet with bacon drippings. Cook over medium high heat until beginning to soften (2 to 3 minutes).
In large bowl whisk together half & half, eggs, salt and pepper until combined.
Sprinkle half of each bacon, leeks and cheese on bottom of each prepared skillet. Divide egg mixture between 2 skillets pouring over bacon, leeks and cheese.
Bake for 40 to 45 minutes or until knife inserted in center comes out clean; cool 5 minutes.
Tip: To prepare ahead, assemble day before serving; do not bake. Refrigerate overnight. Bake as directed above the next day.
Tip: If preparing more than 1 day in advance, make as directed above using 9-inch aluminum pie pans instead of cast iron skillets. Bake as directed above; cool completely. Wrap tightly in plastic food wrap; freeze. When ready to serve, unwrap and discard plastic food wrap; cover with aluminum foil. Heat oven to 350°F; bake frozen quiche for 1 hour or until heated through.
Recipe and image provided by Half & Half magazine.

Other Recipes You Might Like