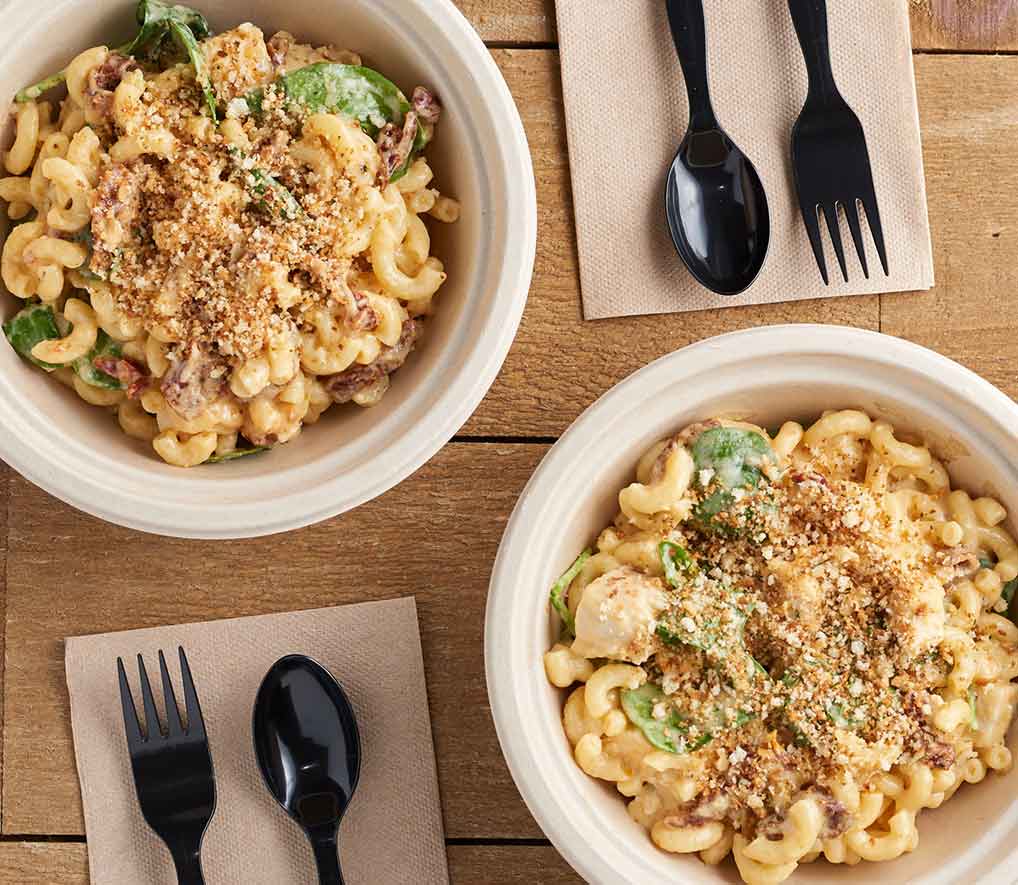 Chicken, Spinach and Tomato Mac n' Cheese
Ingredients
Macaroni
1 (16-ounce) box elbow macaroni
1 tablespoon olive oil
Topping
¼ cup unsalted butter
2 cups panko breadcrumbs
1 teaspoon parsley flakes
¼ teaspoon garlic salt
Sauce
½ cup unsalted butter
½ cup all-purpose flour
½ teaspoon garlic salt
4 cups Meadow Gold whole milk
8 ounces (2 cups) Sharp Cheddar cheese, shredded
4 ounces (1 cup) Monterey Jack cheese, shredded
4 ounces (1 cup) Pepper Jack cheese, shredded
2 cups diced roasted chicken
2 cups fresh spinach leaves, stems removed
½ cup thinly sliced sun-dried tomatoes
How to
Cook macaroni according to package directions for 1 minute less than directions state. Drain; toss with olive oil. Set aside.
Meanwhile, prepare topping. In 10-inch skillet melt butter over medium high heat. Stir in breadcrumbs, parsley and garlic salt. Cook, stirring constantly, until breadcrumbs are toasted and browned (about 5 minutes). Set aside.
To prepare sauce, in 8-quart Dutch oven or pot melt butter over medium heat. Whisk in flour and garlic salt until absorbed by butter. Slowly whisk in milk. Continue cooking, stirring constantly, until smooth and bubbly.
Remove from heat; stir in cheeses until melted. Stir in macaroni, chicken, spinach and sun-dried tomatoes.
Serve immediately by dishing into bowls and topping with breadcrumbs.
Recipe and image provided by Half & Half magazine.

Other Recipes You Might Like