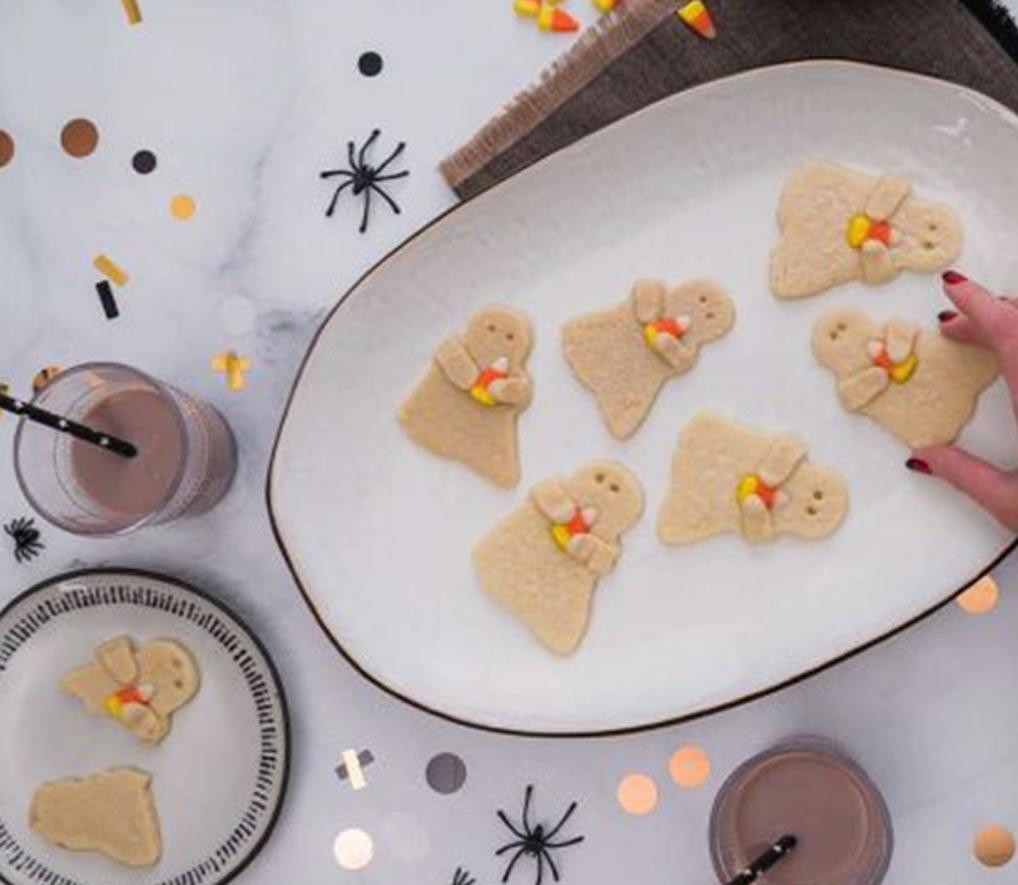 Ingredients
1 ¼ cups sugar
¾ cup powdered sugar
1 cup butter, softened
¾ cup vegetable oil
¼ cup Meadow Gold milk
2 eggs
5 cups all-purpose flour
¾ teaspoon salt
½ teaspoon baking soda
½ teaspoon cream of tartar
How to
In large mixer bowl combine sugar, powdered sugar, butter, oil, milk and eggs. Beat on medium speed, scraping bowl often, until well mixed. In medium bowl whisk together flour, salt, baking soda and cream of tartar. Add flour mixture to butter mixture; continue beating, scraping bowl often, until well mixed. Divide dough in half. Shape each half into ball; flatten slightly. Wrap each in plastic food wrap. Refrigerate at least 30 minutes.
Heat oven to 350°F.
Roll out dough, one ball at a time (keeping remaining dough refrigerated), on lightly floured surface to ¼ to ½ inch thickness. Cut with 3-inch ghost-shaped cookie cutter. Place cookies, 1 inch apart, onto very lightly greased or parchment lined cookie sheets.
Roll 32 small pieces of aluminum foil into shapes about the size of a piece of candy corn; place one in center of each ghost. Gently fold ghost's arms around aluminum foil as if it were giving it a hug. Bake for 8 to 11 minutes or until cookies look dry but not browned. Cool on cookie sheets 5 minutes; remove to cooling rack. Remove aluminum foil and replace with candy corn.

Other Recipes You Might Like