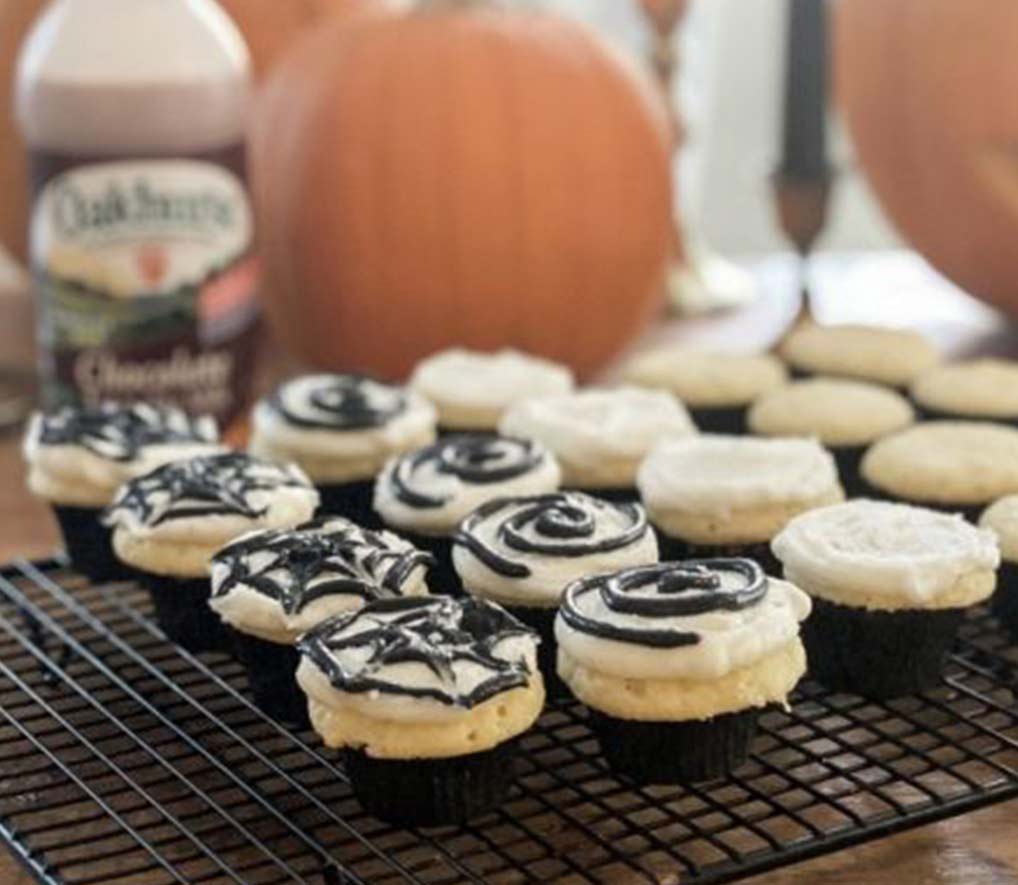 Mini Vanilla Spider Web Cupcakes
Ingredients
Cupcakes
1 cup sugar
1 cup cake flour
½ cup all-purpose flour
1 ½ teaspoons baking powder
½ teaspoon salt
½ cup butter, softened, cut into small pieces
½ cup Meadow Gold milk
2 eggs
1 teaspoon vanilla extract
Frosting
4 cups powdered sugar
½ cup butter, softened
4 to 5 tablespoons Meadow Gold milk
1 teaspoon vanilla extract
Decoration
Black food coloring gel or paste
Mini spider decorator candies or sprinkles, if desired
How to
To make cupcakes, heat oven to 325°F. Place mini paper baking cups into mini muffin pan cups; set aside.
In large mixer bowl combine sugar, cake flour, flour, baking powder and salt; mix to combine. Add butter; beat on low speed, scraping bowl often, until crumbly. In 2-cup measuring cup whisk together milk, eggs and vanilla. Add half to flour mixture; beat on low speed until combined. Add remaining milk mixture; continue beating, scraping bowl often, until mixture just comes together making sure to not over beat.
Spoon about 2 teaspoons batter into each mini muffin pan cup. Bake for 16 to 17 minutes or until toothpick inserted in center comes out clean. Cool 5 minutes; remove from pan. Cool completely.
To make frosting, in large mixer bowl combine all frosting ingredients starting with 4 tablespoons milk. Beat at low speed, scraping bowl often, until ingredients are moistened. Beat at high speed, scraping bowl often, until light and airy. Add additional tablespoon milk if needed to reach smooth, spreadable consistency.
To decorate cupcakes, in small bowl place ½ cup frosting; set aside. Frost cupcakes with frosting spreading evenly to make a flat surface. To reserved frosting, mix in enough black food coloring to reach true black color. Place black frosting in piping bag with size 6 piping tip or place in small zip-top food safe bag and cut off one corner of bag to form small hole. Pipe circular swirl of black frosting on top of each frosted mini cupcake. Starting at center, draw toothpick 5 or 6 times through circles to outside edge of frosting to make spider web design. Decorate with mini spider decorator candies, if desired.
(Makes 3 ½ dozen)

Other Recipes You Might Like