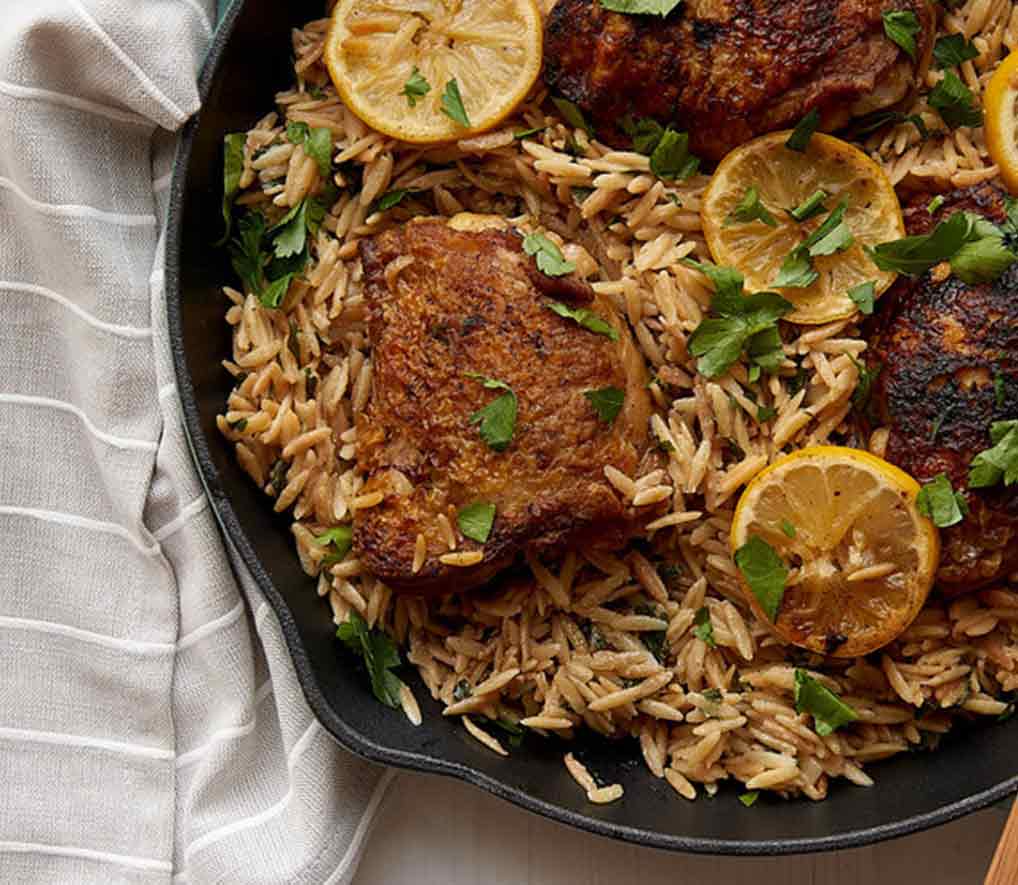 Parsley Chicken Orzo Skillet
Ingredients
2 tablespoons butter
1 tablespoon salt
2 teaspoons pepper
1 pound skin-on, bone-in chicken thighs
1 cup uncooked dried orzo pasta
1 shallot, finely chopped
4 cups chicken broth
2 lemons, one juiced; one cut in half, one half thinly sliced and second half reserved
1 bunch fresh parsley, half tied into bunch with kitchen string, half coarsely chopped
¼ cup Meadow Gold heavy whipping cream
1 lemon,
How to
Heat oven to 400°F.
In 12-inch high-sided oven-proof skillet melt butter over medium heat. Sprinkle salt and pepper on skin side of chicken thighs. Place chicken, skin-side down, in skillet; cook 4 to 5 minutes or until browned. Turn chicken over; continue cooking 4 minutes. Remove from skillet; set aside.
Add orzo and shallot to skillet; cook over medium heat, stirring occasionally, until toasted (about 3 minutes). Stir in chicken broth and juice of 1 lemon. Add tied parsley bunch to skillet. Cook over medium-high heat just until comes to a boil; place chicken thighs back in skillet. Place lemon slices on top of chicken thighs. Place skillet in oven; bake for 18 to 20 minutes or until chicken is cooked through (160°F).
Let rest 5 minutes. Remove chicken thighs; set aside. Remove and discard parsley bunch. Stir ½ chopped parsley and whipping cream into orzo mixture in skillet. Place chicken thighs on top of orzo mixture. Sprinkle with remaining chopped parsley and squeeze of juice from remaining lemon half.
Recipe and image provided by Half & Half magazine.

Other Recipes You Might Like