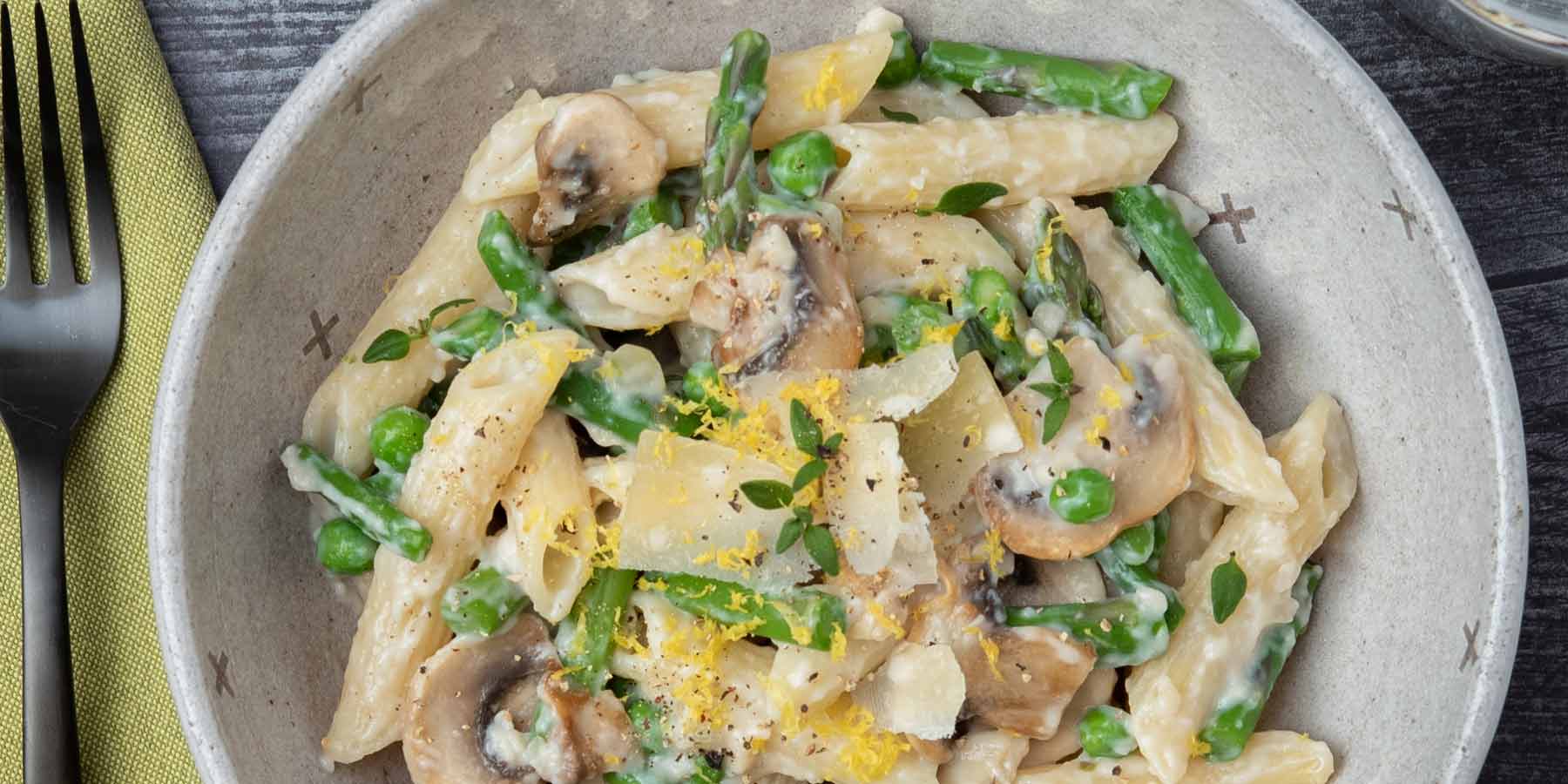 Spring Vegetable Penne with Lemon-Cream Sauce
Ingredients
8 ounces (about 2 cups) uncooked dried penne pasta
1 pound asparagus, diagonally cut into 1-inch pieces
1 tablespoon extra-virgin olive oil
¾ cup chopped sweet onion (like Vidalia® or Walla Walla®)
1 (4-ounce) package sliced mushrooms
1 garlic clove, peeled, finely chopped
1 teaspoon chopped fresh thyme
1 tablespoon all-purpose flour
½ cup chicken broth
½ cup Meadow Gold half & half
¾ cup frozen green peas
3 tablespoons shaved Parmesan cheese, divided
½ teaspoon salt
½ teaspoon freshly ground pepper
½ teaspoon grated lemon peel
1 tablespoon fresh lemon juice
How to
Cook pasta according to package directions omitting salt; add asparagus during last 3 minutes of cooking. Drain.
Meanwhile, in 12-inch skillet heat oil over medium high heat. Add onion and mushrooms; cook 5 minutes or until tender. Add garlic and thyme; continue cooking 1 minute. Sprinkle mushroom mixture with flour. Cook, stirring constantly, 30 seconds. Stir in chicken broth and half & half; continue cooking, stirring occasionally, until slightly thickened. Stir in peas, 2 tablespoons Parmesan cheese, salt, pepper, lemon peel and lemon juice; continue cooking 1 minute or until peas are heated through.
Add pasta and asparagus to skillet with mushroom mixture; toss gently to coat. Sprinkle with remaining 1 tablespoon Parmesan cheese. Serve immediately.

Other Recipes You Might Like